What is Vacuum Casting?
Vacuum casting is where an SLA or SLS printed part is used as a master & a silicone mould is created from it. Polyurethane resin is poured into the mould under vacuum to produce the part.

An accurate production technique that can replicate detailed patterns, complex dimensions, and different textures.
Benefits
Cost-efficient alternative to hard tooling.

Accurate & detailed.

Strong optical properties.

Adjustable hardness.
Applications
Small batches of end-use product runs.

Functional & visual prototypes.

Concept & appearance models.

Automotive parts.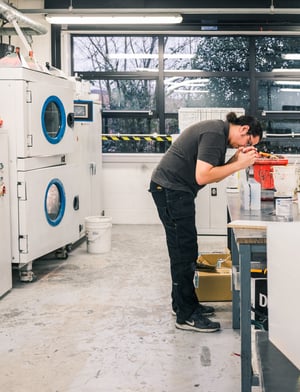 Typical vacuum casting lead times are 8-10 days; express work available from 3-4 days.
If you require a part longer than 650 mm, please speak to our sales team.
Capacity
300 x 400 x 350mm
820 x 600 x 600mm
820 x 1800 x 600mm
Quantity
Up to 20 parts per tool
Tolerances
+ / - 0.3% geometry dependent
Wall Thickness
Min. 0.5 mm - 1 mm
(Depending on the overall size. The larger the part, the thicker the wall must be)
Letters & Logo

Width = 2x height min.

Gap between raised & recessed letters

Min. 1.27 mm
ABS-like material.
Ideal for panels and enclosures.
Has a high-temperature resistance.
UV-Stable, water clear material.
Excellent mechanical properties.
Can simulate thermoplastics.
Surface can be specified as textured, matt, satin or gloss.

Clear or frosted.

Rubber over mould.

Matt Satin or gloss metallic finish.

Specialised finishes available upon request.