What is Multi Jet Fusion (MJF)?
Multi Jet Fusion 3D printing uses an inkjet array to apply fusing and detailing agents. These are then fused by heating elements on the nylon powder bed into a solid layer.

MJF 3D printing is a repeatable additive manufacturing technique that enables low-cost, accurate parts to be produced.
As part of our collaborative partnerships that we have built over the years, we are able to offer MJF 3D Printing to our customers.
Benefits
No Support Structures.

Repeatability.

Accurate.

Produces high-strength parts.

Low cost per part.
Applications
Consumer products.

Functional prototypes.

Medical parts such as prosthetics.

Automotive parts.

Mechanical components.
| | |
| --- | --- |
| Dimensions | 390 x 240 x 380mm |
| Resolution | Layer Thickness: 80 microns |
| Tolerances | ± 0.3% (min: ± 0.15 mm) |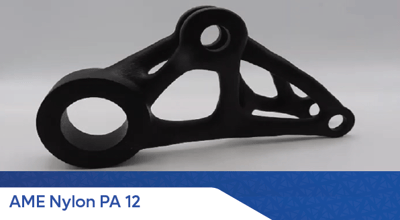 Nylon thermoplastic.
High-density parts.
Suited for complex assemblies, prototypes & housings.
Nylon thermoplastic.
Excellent chemical resistance.
Ideal for strong, robust & functional parts.
Vaporfuse surfacing (VFS).
Poly-shot surfacing (PSS).
Dyeing black.
Supporting businesses with our MJF 3D printing services for over 20 years.
High quality MJF parts guaranteed
1-6 Day lead times
2+ Materials Available
Excellent Customer Service & CAD Advice Provided
ISO 9001:2015 certified
Submit the form > Receive a quote within 24-48 hours > Order & get your parts
Need an NDA? Download it here & send it to info@ame-3d.co.uk.