Selective Laser Sintering (SLS) is a powder based technique wherein each layer is accurately fused together by a laser.
It is a highly precise 3D printing process that cost-effectively produces industrial strength parts, complicated geometry, detailed visual and robust functional prototypes.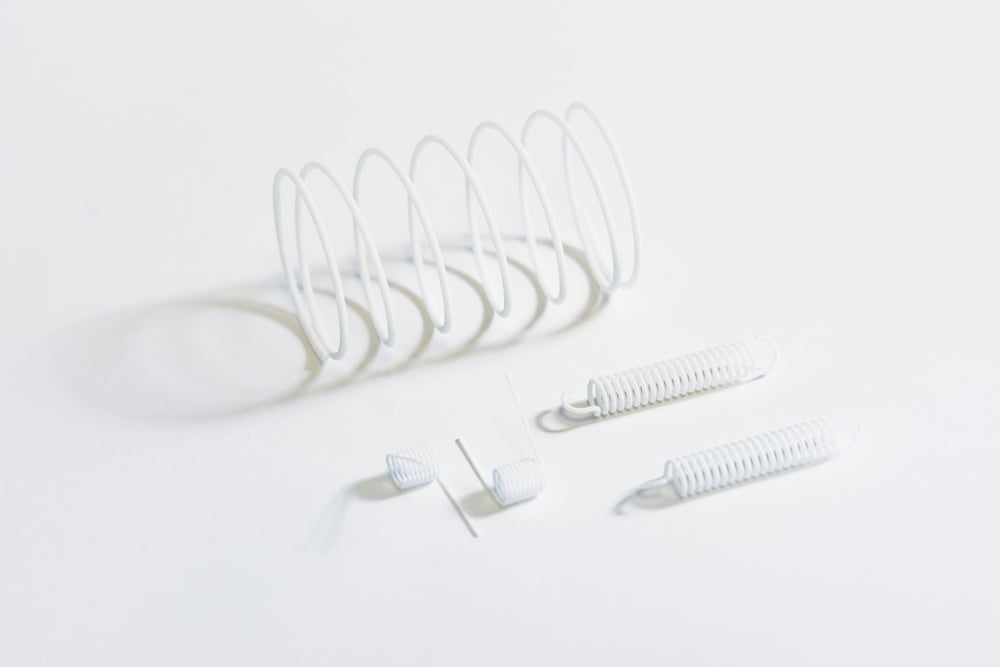 How S
LS Production
Works
Selective Laser Sintering (SLS) builds a part layer-by-layer via a laser fusing nylon-based powder together.
3D CAD file is reviewed by the AME-3D production team

CAD file is set-up in the SL

S

system

A laser binds the powder particles

together based

on the file specifications layer by layer until the build is complete.

The l

oose

powder is

removed,

and the part is processed according to the chosen finish
SLS 3D Printing Application and Uses
Functional

and durable

prototypes for

mechanical

testing

Complex geometries

and precision parts

Cost-efficient production of unique and personalised products

Lightweight designs with lattice structures

On demand part manufacturing

that r

ivals

injection moulded parts

Suitable for l

ow volume production

Increased

recyclability

compared to alternative 3D printing technique
SLS 3D Printing Details
The SLS printing dimensions are a reference guide. Our team are experienced in splitting designs and seamlessly joining parts together, should you require a build that exceeds the maximum dimensions provided.
SLS Dimensions
330 x 280 x 400mm
SLS Resolution
Layer thickness 0.1mm
Feature size
Min. 0.8mm
Wall thickness
0.7mm - 2.0mm (varies with material choice)
Tolerances
± 0.3mm or ±0.05 mm / mm
Engraving

Minimum depth of 1mm

-- Text must have a min. font size of 2mm

Embossed details
Minimum height of 1mm
Hole size
Greater than 1.5mm diameter
Escape holes
Minimum 3.5mm diameter
Lead Times
Please note, our SLS printing machines run throughout the weekend and we offer delivery all over the UK.
If the material you need isn't listed, we order material in for customers.
AME Nylon PA 650
A white, thermoplastic nylon that can be painted or pigmented in a wide variety of colours.
| | |
| --- | --- |
| Shore Hardness | 73D |
| Tensile Strength | 48 MPa |
| Tensile Modulus | 1,700 MPa |
| Flexural Strength | 48 MPa |
| Flexural Modulus | 1,500 MPa |
| Heat Deflection Temp. | 95 - 180°C |
| Elongation Break | 24% |
AME Nylon GF 615 GS
A 50% glass-filled nylon available in a light sand tone.
| | |
| --- | --- |
| Shore Hardness | 77D |
| Tensile Strength | 38 MPa |
| Tensile Modulus | 5,910 MPa |
| Flexural Strength | 37 MPa |
| Flexural Modulus | 3,300 MPa |
| Heat Deflection Temp. | 134 - 179°C |
| Elongation Break | 2% |
SLS Finishes
The correct finish improves the overall performance of your SLS printed part or product.
Off machine with loose powder removed

Bead blast

Colour spray painting

Clear lacquer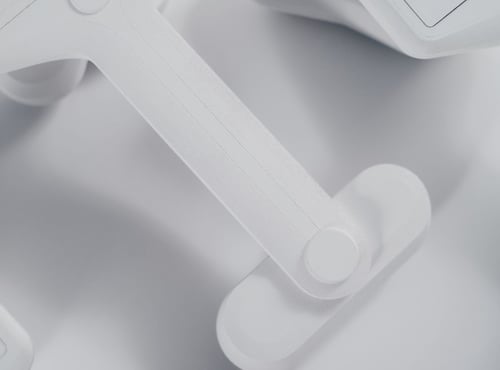 SLS is the most versatile 3D printing technique that bridges the gap of low volume production and precision part manufacturing. Its main benefits include:
End-use functionality and materials

Durable products suitable for mechanical testing

Chemical resistance

Repeatability

Able to tackle complex designs due to no




support structures being required

Cost-effectiveness

Can be painted or

pigmented in

any colour
Let's create together
SLS 3D Printing offers a vast variety of options, whether you're looking for part production or rapid prototyping.
Get expert advice from our experienced team.